Realization of gardens
Basic modelation of the ground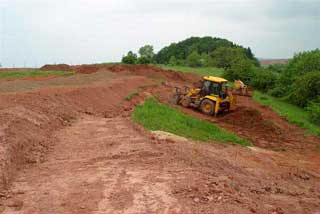 Forming of the surface of the ground contains bringing of new soil, slope formations, location of stone elements. Also main division of the irrigation and electric system is created in this time.
Soil preparation
After basic formation of the ground comes a detailed work. First you have to get rid of weeds, to plough, cultivator and rake the surface. In the same time you add substrates and torf according to demands of the plants.
Planting out
Planting contains digging holes, changing or bettering the soil with substrates, fertilizers and watering. Before planting we cut upper parts of the plants and roots depending on size of the plant and chosen technology of planting.
Afterplanting service
Afterplanting works include fixing the plants and trees to the sticks, covering the trunks with juta and mulching of the plants.
Making the lawns and flowering meadows
There are two main possibilities of making the lawn. You can start a lawn from seeds or you can lay the grass carpet. In both cases it depends on the structure of seeds in local conditions.
Flowering meadows bring more variety because of higher amount of different seeds. On the other hand this takes more time because of different time of germination.