Afterplanting care
Grass areas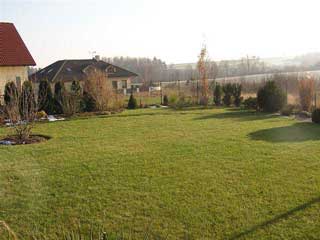 We provide regular cutting of lawns, verticulation, aerification, fertilizing, herbicide treatment. We can offer you also cutting of neglected grass.
Plantings
We offer complete care for plantings, regular cutting, fertilizing, weeding,mulching, replanting. Work includes also preparation of the garden for winter, protection against pests and diseases.
Pruning and cutting of the trees and shrubs
According to your wish we prune your fruit or representative garden in suitable season of the year. Besides this we provide taking care for old trees, sanation of holes, konzervation treatment, binding of the treetops. When necessary we cut down old and ill trees together with milling the stumps.
Plant treatment
When some illness occures we advise you how to deal with it, we offer treatment in chemical or biological way. We also try to reduce wounds caused by outer infuences of climate or soil.